VS.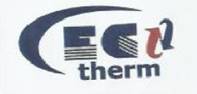 Our client, Bremstaller Gesellschaft, an Austrian manufacturer and the owner of the registered trademark "ECOTHERM" in U.A.E. under No. 134935 on 27 March 2011 in class 11.
A local company operating under the name of Ecotherm General Contracting LLC, has filed a trademark application for "ECO therm" stylized with device under No. 175613 dated 21 June 2012 in class 37, which was accepted and published in the Official Gazette No. 140 on 4 November 2013 subject to the opposition period of 30 days.
Acting on behalf of our client, the plaintiff, we have opposed the said infringing application based on following facts:
Our client's registration covers class 11 goods while the opposed mark's application covered class 37 services; since both classes related to construction, the likelihood of confusion to the source of the goods and services would be high, and
Prior registration of our client's mark in U.A.E gave the plaintiff priority.
The Registrar issued its decision by accepting our position and canceling the subject application.
For more information, please contact us at uae@qumsieh.com.