VS.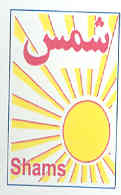 Our client, Arnet Pharmaceutical Corporation, filed a trademark application on 3 November 2012 for SUN Naturals & Design in class five (5); the application was accepted and published in the Yemni Trademark Journal on 1 April 2013 subject to the opposition period of 3 months.
On 26 June 2013, a local company called "HAEL SAEED ANAAM AND CO" filed an opposition against the above trademark based on the following alleged facts:
SUN, the mark at issue is "Shams" in Arabic, which is a translation of its prior registration Shams in Latin and Arabic characters in Yemen;
Registration of the subject mark would mislead the public of the origin of the products and would lead to unfair competition;
There would be a high possibility of confusing consumers between the two marks' respective goods, and
Registration of the opposed mark would be against Yemeni Trademark Law and International Conventions.
A counterstatement in replying to the opposition was lodged as follows:
The marks are different in pronunciation and general appearance;
Our client's trademark consists of distinctive elements of the word Naturals and the device. The other trademark consists of Arabic word Shams and its English transliteration, and
"SUN Naturals" has been used continuously in Yemen since 2007 without any conflicts.
After complete litigation on the merits, the Committee found that the likelihood of confusion does not exist on the difference between SUN Naturals and Shams.
For information about the above or our practice in Yemen, please contact us at yemen@qumsieh.com.