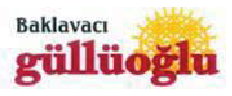 VS.

Baklavaci Gulluoglu Gida Sanayi Ve Dis Ticaret Anonim Sirketi, is a well-known food manufacturer in Turkey, and the owner of trademark registrations for Baklavaci Gulluoglu in its home country and in the UAE.
A Turkish competitor filed a similar trademark Baklavaci Gulluoglu for Faruk Gulluoglu in UAE under the number 217892 in class 43, under the name of Baklavaci gulluoglu Oglo Mehmet Nejat Gullu.
Acting on behalf of our client, Baklavaci Gulluoglu Gida Sanayi Ve Dis Ticaret Anonim Sirketi, the Registrant, we filed an opposition against said application based on the arguments below:
Registrant is a well-known company in Turkey establish in 1993 operating in the field of food production;
Prior registration of Registrant's mark in its home country since June 2000;
Registrant has prior registration in UAE dated since April 2002;
Prior use of the products as specified in class 43 bearing the Registrant's mark in UAE since 2007;
Registration of such mark will confuse the public about the origins of the products and will lead to unfair competition, and
Similarity between our Registrant's registered mark and the counterparty's opposed mark in terms of pronunciation and general appearance.
The applicant of the opposed mark failed to appeal to the opposition of our client within the legal term, therefore the Trademark Registrar deemed the application No 217892 as abandoned.
If you have any questions, please contact uae@qumsieh.com.